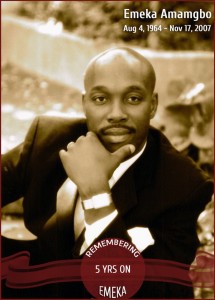 Beloved:
On Saturday November 17, 2007, I lost you. I never believed it could happen. I guess you could say, I was in denial. I mean, God let it happen, so it must be his will right? I am scarred for life but I am also loved for life. I feel your love following me in everything thing I do. I feel your love when I look into our children's eyes. I feel your love when I am lost in memory lane. I even feel your love when I am at the store you founded. You gave so much to so many and it is coming back to me in ways I could never have imagined. I only knew you for 10 years and 2 weeks, but you touched my life in a way that made absolute sense. Some ignorant people have said to me, "Enough of the Eulogizing, move on!" I guess they didn't know you like I knew you. You were so modest that you might even say the same thing. But I am actually enjoying the fact that I had a great example of a wonderful human being, though not perfect, you had so much integrity. You were so real, honest, kind, loving, passionate, loyal and seriously funny. Even if I wanted to forget you, how could I? One look at our boys and I see you, everyday. So tell me how I should erase the memory of you?
It doesn't mean I am not able to love again, it doesn't mean another man won't get my heart. It actually means who ever puts a ring on it, seals the deal, and takes care of the boys like his own, will get a better me. A more spiritually grounded person. A more loving and supportive partner. A more caring and compassionate woman. A more patient and prayerful woman. A thoroughly tried and tested superwoman. One who didn't know her own strength, one who never knew she could do what I have done. One who people tell her has changed their lives for the better or inspired them to not be victims any more. I never thought I could run the store. Me? No way! But I do. I wake up everyday around 4:30am call in produce, go to the gym, get the boys ready, take them to school and get busy with the day. When I lift boxes as big as 50 or more pounds, I think of what you would say about your "aje butter babe" When I do the stairs at home or the gym to get rid of my stuffed muffin love handles, I imagine you giving me the thumbs up for maintaining my physique & good health. I was never a fitness buff before. Not that I am one now, but at least I am maintaining.
I remember the dream I had a few months ago when you spoke these words to me, "Good job, good job", and "Thank you, thank you"
Was that God's way of letting me know you were proud of me? I really did appreciate it. It warmed my heart to see you again, even though in a dream. Ours was true love based on the purest of emotions with no gimmickry or materialism attached to it. We found ourselves in the most profound way and we fought against the odds to be together. We fought against the odds to beat cancer. After your first healing, God gave you some time to "get your house in order" You did. But as we all will some day, you couldn't beat death. I miss your friendship and I have taken all the advice you gave me. I am a work in progress, constantly evolving.
I thank you for being the wind beneath my wings. I thank you for loving me in spite of my imperfections. I thank you for taking care of me. I thank God for choosing you to be my angel. You are missed but never forgotten.
The boys are doing great as you can see. I am much stronger and wiser now. I was devastated and shaken to the core; God picked me off the floor and told me in more ways than one that it was not over for me. That I have so much work to do. That your legacy will not die because you died. That even though friends deserted me when I needed them the most, He will never leave me nor forsake me. That I will rise again and that I will love again and be loved again. He told me that my future is brighter than my past. He told me that No more will He allow such a tragedy to befall me.
I am ready for my present and my future. Thank you for being a part of my past and helping me build my foundation.
Love Always,
Queenkay