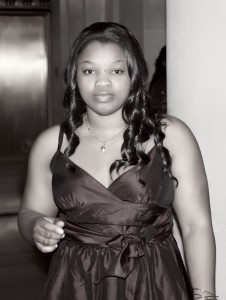 Tata went to school on Monday April 2, 2012 and she never came back. I woke up that morning feeling eerie and strange but couldn't understand why.
At mid-morning my sister in-law called me from out of state to check on me after hearing about a shooting at a University in Oakland. I quickly checked online and saw the news flash. I had never heard of the school before neither did I believe I knew anyone who attended there. I said a silent prayer but I had no idea that I would soon be struck by grief. A few hours later, I got a call from a mutual friend telling me that Tata was among the 7 victims of the University shooting. I knew she was rounding up her nursing program but I didn't know the name of the school or much about the school. I went into shock. I began crying uncontrollably. "NO! NO! NO! I did not want to believe this. I was told that she had been rushed to the hospital. I gathered myself and was able to drive with tear stained eyes to the hospital, hoping it was a big mistake. When I got to the hospital, I had no idea what to do. I went to the information desk and gave the person at the desk Tata's information and he couldn't find her anywhere in the system. When no information was forthcoming, I called Tata's husband. He told me that he too had been at the hospital and they wouldn't give him much information. He was now home and he sounded defeated and in shock.
As I pulled over to their house, I saw a familiar eerie scene. Cars parked everywhere, similar to what happened when my husband had passed a few years ago. My heart sank. As I saw Tata's husband, I couldn't hold the tears. I hugged him as I fought to hold back the tears. How could this happen? I mean, how could it be? I saw her children, all four of them. How is this possible? My heart started to split into a million pieces. I sat next to the friend who had called me to inform about the tragedy. We held hands and prayed. We prayed an innocent prayer. We pleaded with God for it to be all a mistake.
I remembered how hard it was to survive the loss of my husband. I remember how hard it was to pick up the pieces and take care of my young children. My younger son was the same age as Tata's youngest baby when his father died. He told me the other day, "I can't even remember how my daddy looked like, I was so small" It hurt me because he hears all these amazing things about his dad but doesn't have a memory of his own. I imagined the two younger children would feel the way he does when they get older. Children form stronger memories as they develop their speech and recognition abilities, sometime after the age of five. At times they may remember certain traumatic events that happened earlier but it is not the norm.
By the third day, I realized that Tata was never coming home and that gun violence had hit very close to home. Tata's untimely and violent passing would not be in vain.
I recalled how I first met Tata. It was about 10 years ago. Tata's husband and my late husband had been friends and would always chat at my late hubby's store or at my house until late. I became close to her husband when I was pregnant with my first born. We worked at the same telecommunications company and we had a few friends and co-workers in common. He was someone I could confide in and I was looking forward to meeting his wife when she migrated to the United States and I prayed that I would click with her so that our friendship would be even stronger. We bonded instantly.
Tata was a great mother figure to her step daughter. I know at first it was an adjustment but seeing that beautiful teenager blossom now, I can say for a fact that Tata made an incredible impact on her life. We were there when she gave birth to their first baby girl and about the time of the second born, my hubby took ill with cancer. It was a very devastating time for me. I lost myself in taking care of him and praying for the best outcome. Tata was among the few friends who stayed steadfast in prayer and encouraged me. I even remember her telling me once of a near death experience she had. She had been very ill and while she lay in bed, she felt herself floating and was able to see everything happening to her. God decided it wasn't her time and I thank God I was able to make a deep connection with a soul like hers. Thank God for a second chance and for her to be able to live through her children. .
After my husband survived the transplant, recovery was hard. It had been an 18 month ordeal most of which I was in a zombie-like state. We had a celebration of his first year post transplant and shortly after, he had a relapse and passed on. I was devastated. Tata was there for me. She cried with me and for me. She would call often even though she wasn't much of a phone person. She would come find me and she would encourage me.
In the past few years, we didn't see each other or talk on the phone as much as we did before, but our love for each other never waned. So much had changed. My life had taken a dramatic turn and she became busier with another newborn and taking classes to prepare for her nursing program. I know she had quite a few friends but each person had a unique and personal relationship with Tata. I saw Tata last a few months ago at a party and we planned on seeing each other again but her schedule was so busy we tried to reschedule a few times. I didn't see Tata alive again. Her last email to me was about 2 weeks before she passed. It was titled, "God is never wrong" It was one of those emails with stories and a moral lesson. I read it and marked it to come back to it so I could read it on my computer and respond. It was addressed to her hubby and I. After she passed, I wondered about the title. Could God have wanted Tata to pass in such a tragic way? What was the lesson for us? In the news, it was reported that she ran outside after she was shot. She wanted to live. To live to see her hubby and her beautiful girls. She collapsed on the sidewalk and somewhere between there and the hospital, she was pronounced dead. It was as though, she was torn from our lives. Stolen. Taken. Gone!!!
I miss you Tata. I pray for your hubby. I know what it feels like to wake up in the middle of the night when no one else is there and the love of your life is not there to hold or whisper into his/her ear. To embrace him/her through the night. To kiss and make up for a silly fight or to talk about your future dreams and goals. I know. I know what it's like to look into the eyes of your children and see your spouse in them and wish so badly that it is a bad dream and that you wake up quickly from it. I know what it is like to faintly hear the voice and laughter of your love but you look around and he/she is not there. I know what it is like to be mother and father to young children and still try to be strong myself. I pray that God will wrap His loving arms around your family and protect them. I pray for the peace that passes all human understanding to abide with them. I know your death will not be in vain. The life you lived is one to be celebrated. Rest in peace my dear friend. You are now one of our heavenly angels.
To SUPPORT THE CHIBUKO FAMILY PLEASE GO TO www.dorischibuko.com and follow the links to donate. you can also mail your donation to:
Doris Chibuko Trust Fund
P.O. Box 3140, San Leandro, CA 94578
or deposit: Bank of America
Acct. Name: Trust Fund of Doris Chibuko
Account # 0149648328
Routing is 121000358
Wires: 026009593
A special Serice will be held for Doris "Tata" Chibuko on Saturday April 28, 2012 @ 6pm ILWU Local 6 Hall at #99 Hegenberger Road. Oakland, CA 94621
If you are local and can attend, please join us and be prompt.
Thank you for your support.
We must all do whatever we can to fight gun violence. Please get involved in your own community – we can fight gun violence, one community at a time. What affects one of us, affects all of us. 
[wdfb_connect]Login with Facebook[/wdfb_connect]